Our Story
At A Helping Hand, we pledge to provide distinctive quality and unparalleled customer service as we strive to gain the respect and trust of our clients and families.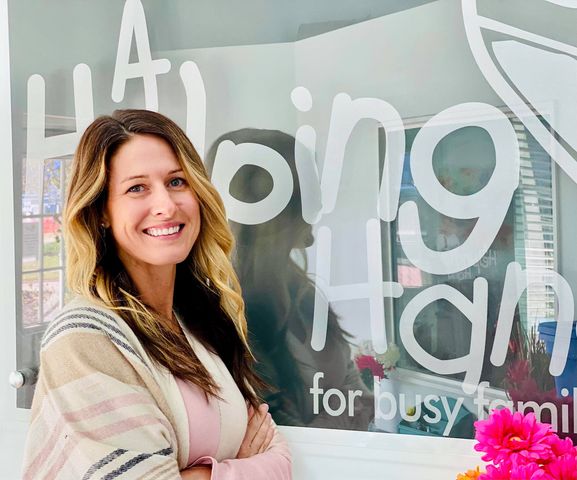 Courtney Davis, Owner
Courtney Davis is from Virginia Beach, Virginia, however, her father's navy career kept their family on the move early in her life. Courtney understands the challenges (and incredible joys!) of parenthood and has focused on providing childcare support to the families in her community. Courtney created A Helping Hand with the intentions of providing a personalized, professional, and extraordinary experience for families seeking in home childcare. In 2008, A Helping Hand was born in Virginia Beach, and in 2011, she took her company across the US and opened a branch in San Diego, California. Courtney employs a management team of insanely amazing, resilient, and hard-working women to represent A Helping Hand from coast to coast. In addition to her bad to the bone management team, A Helping Hand has around 75 Helpers who provide our daily childcare services to our incredibly deserving families. In 2010, A Helping Hand created our Onsite Event Childcare Service to help make adult only events, family friendly! This service grew from locally, to regionally, to nationally, to globally! A Helping Hand was Courtney's first "baby" until her 3 sons Ethan, Grayson, and Jaxon blessed her life and family.
Kim Arnold, Western Division Manager
Hello, my name is Kim and I am the Western Division Manager for A Helping Hand supporting services in California and additional areas. After relocating from Virginia, I joined the A Helping Hand family and have had the wonderful opportunity to mentor A Helping Hand's Western Division team while collaborating with clients and families. With a new idea for everything, I am known for my relaxed but detail driven approach to business. With a background in Business Management and Child Development, I excel at creating a memorable experience for each family. I look forward to supporting your needs with A Helping Hand.